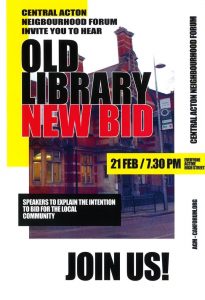 Bidding has reopened for parties interested in taking over one of Acton's most prominent buildings, the old Acton Library.  Ealing Council had agreed a deal with Curzon Cinemas to take over the vacant library building and convert it as a cinema, restaurant, bar and three flats.  But the deal has broken down and the library remains empty and unmaintained.
So the Central Acton Neighbourhood Forum (CANForum) are dusting down some 2014 ideas  to take over this cherished listed building and use it as a hub for the local community, including a small cinema, theatre space, coffee bar and workshop space. These proposals originated when the Council first announced it wanted to dispose of the building. Initially, both the Council and Curzon Cinemas seemed interested in a combined approach but they soon lost interest leaving those who had worked on it feeling they had been misled.
The Library building has a tremendous local significance. It was gifted to the community by the Victorian philanthropist Passmore Edwards. Edwards was internationally renowned as a champion of the working classes. Another of Edwards's gifts was Shepherds Bush Library which has now been transformed into the Bush Theatre . It is a fine example of what can be achieved.
What are the chances of things working out in Acton this time round? As a test of support, CANForum is holding a public meeting at the Everyone Active Centre on February 21st, starting at 7.30.